BLUFF POINT STATE PARK
BLUFF POINT STATE PARK
55 Depot Road
Groton, Connecticut   06340
(lat:41.3355 lon:-72.0333)

Bluff Point Coastal Reserve offers the visitor a mixture of wooded hiking and biking trails coupled with wildlife viewing on Long Island Sound.

Bluff Point is the last remaining significant piece of undeveloped land along the Connecticut coastline. Jutting out into waters of Long Island Sound this wooded peninsula, measuring one and one-half miles long by one mile wide, encompasses over 800 acres.

Originally proposed for acquisition as a state recreation facility as early as 1914, it was not until 1963 that the western one-third of the land was purchased from Henry A. Gardiner III. State holdings include a north-south strip of the mainland, a portion of the headland bluff fronting the Sound, and the tombolo or sandspit forming a beach of nearly one mile in length. The beach terminates in a small, rocky island called Bushy Point.

Bluff Point was designated a Coastal Reserve by a special act of the Connecticut legislature in 1975 to establish the area for the purpose of preserving its native ecological associations, unique faunal and floral characteristics, geological features and scenic qualities in a condition of undisturbed integrity.

Because of its Coastal Reserve designation, access to the bluff is by foot or non-motorized vehicle only. The trail to the bluff passes through wooded and open areas until the view broadens as the bluff is approached. Here vegetation is more sparse and diminutive because of wind exposure. Among the plants to be found at the headland are native beach plum, beach pea and red and white shore roses.

The long, narrow beach is a geological remnant of the continental glaciers and subsequent erosion by wind and water... an ongoing process.
Bluff Point is the only sizable mostly undeveloped public piece of coastal land left in Connecticut. The natural habitats found here include coastal woodlands, beach and dune grasslands, coastal plain ponds, coastal bluff, tidal wetlands, intertidal mud flats and offshore eelgrass beds. Because of this unique combination of habitats, a variety of plants and animals live in the area. Some of these are rare or endangered. Thus it is important to remain on trails and not disturb the plants, animals or rocks. As part of the management plan for Bluff Point, some trails will be closed in the future. Please do not use any former trails you find blocked, as habitat is trying to be protected in these areas. There are lots of trails here for hikers, joggers, horseback riders and mountain bikers.
Connecticut has made state parks, forests, trails, historic sites and beaches more accessible to our residents so they can enjoy the many attractions and beauty they offer. Under the Passport to the Parks program, parking fees are now eliminated at Connecticut State Parks for those with Connecticut registered vehicles. You can view the
CONNECTICUT PASSPORT TO THE PARKS
web page to learn more.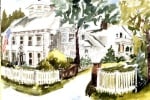 BBs / Inns
Located along the CT Shoreline midway between New York City and Boston, and only one hour from Hartford, with tons of local attractions both on the Long Island Sound and the Connecticut River.
17.3 miles from park*
---
Bluff Point State Park is located near Colchester, Groton and Jewett City
---
Bird watching has always been popular at Bluff Point because of the variety of habitats. Many shorebirds can be seen year round. The fall migration provides opportunities for seeing a large number and variety of birds. Please stay on the marked trails and use the official dune crossings.

Over 200 species have been seen at this site, including a number that are uncommon in Connecticut gulls including Iceland, glaucous, common black-headed and black-legged kittiwake terns including roseate, Forster's and black skimmer gannet 30 species of water birds many shorebirds, including oystercatcher, Hudsonian godwit, Baird's, purple and buff-breasted sandpipers waders, including little blue heron raptors, including peregrine falcon, short-eared and saw-wet owls other landbirds, including both cuckoos, bobwhite, Swainson's and gray-cheeked thrushes, white-eyed and Philadelphia vireos, golden-winged, Nashville, Blackburnian, bay-breasted, blackpoll, orange-crowned and mourning warblers, chat, and a variety of sparrows. Many of these uncommon species occur in migration, when Bluff Point acts as a landfall in the spring and a land trap in the fall. The result is that it attracts a wide species diversity and big numbers of individual birds. In the fall, the rock outcrop at the southern end of the peninsula is an excellent spot from which to watch the hawk migration. The little neck of woods just east of the driveway and immediately south of the railroad tracks can be exciting during the fall migration. There is a great diversity of nesting species, thanks to the variety of habitat types near one another. Among the more interesting nesting species are clapper rail, black-crowned night heron, osprey, orchard oriole, white-eyed vireo and bobwhite. Bluff Point is also a good place to see oystercatcher during the nesting season, afterwards during their post-breeding congregation, and finally as the fall migrants pass through. Winter is also exciting. From the southern portions of Bluff Point you may see common and red-throated loons, red-necked and horned grebes, all three scoters, old squaw bufflehead, common goldeneye, canvasback, red-breasted merganser rough-legged hawk, short-eared owl horned lark and snow bunting.
---
---