BOB STRAUB STATE PARK
BOB STRAUB STATE PARK
U.S. 101
Pacific City, Oregon   97135
(lat:45.1809 lon:-123.9643)

Phone:
503-842-3182
This park is located in Pacific City and provides beach access, parking and restrooms. It's a nice place to go for a walk on the beach and explore the Nestucca sand spit. The Nestucca River is legendary for 50 pound Chinook salmon.

Vehicles hauling horse trailers must park in the county parking lot adjacent to the park . There is a $10 parking fee for the county lot.
Lands were acquired by purchase from private owners, the U. S. Government and the State Land Board between 1961 and 1964. In 1966, an exchange of lands was made with the US Forest Service. Originally called Nestucca Spit State Park, it was renamed in 1987 for former Oregon Governor Robert Straub, a strong supporter of the Oregon Beach Law, conservation of natural resources and opponent of the proposed use of the spit for a highway.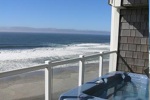 Vacation Rentals
Keystone Vacation Rentals - Offering guests luxury oceanfront vacation rentals to enjoy the perfect getaway along the magnificent Oregon Coast. Rentals offer all the amenities you would hope to find including commanding oceanfront views, private hot tubs, access to indoor pools, WiFi, HD televisions and much more.
14.3 miles from park*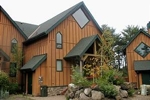 Cottages and Cabins
Oregon Beach Vacations chooses our Oregon vacation rentals very carefully. Each home is personally screened prior to acceptance, and we work closely with the property owners to ensure that every Oregon coast rental continues to meet our high standards. Each rental has certain amenities to make it special. You may never want to leave.
17 miles from park*