BUFFALO ROCK STATE PARK
BUFFALO ROCK STATE PARK
P.O. Box 2034 1300 North 27th Road
Ottawa, Illinois   61350
Phone:
815-433-2220
Email:

Buffalo Rock State Park is located on a bluff which was once an island in the Illinois River. Now standing majestically on the north bank, this promontory affords a magnificent sweeping view of the Illinois River. Located approximately three miles west of Ottawa in LaSalle County, this 298 acre park has long been a favorite picnic area, as well as a nature lovers delight. The area of Buffalo Rock was the home of the Illinois Indians when Louis Jolliet, the French explorer, and the Jesuit missionary priest Father Jacques Marquette made their trip up the Illinois River in 1673. Later the Illinois Tribe was virtually annihilated in protracted warfare with the aggressive Iroquois.
Titled "Effigy Tumuli" in tribute to the Native American burial grounds that inspired it, this unique "earth art" depicts five sculptures native to the Illinois River. The Effigy Tumuli was the vision of artist Michael Heizer who created the sculptures of a snake, turtle, catfish, frog and a water strider. To better appreciate the sculptures, it is best to look first from a distance and then walk around on top of them to better understand the effigies.

Two American bison call Buffalo Rock home. Their pen and grazing area is located across from the baseball diamond and they can be seen daily.
Buffalo Rock is said to have served the French as an early military, trading and missionary post. LaSalle and Tonty, after building Fort St. Louis on Starved Rock during the winter of 1882-1883 gathered almost 4,000 Indian warriors at the front of Buffalo Rock and formed a confederation against the Iroquois. Among the tribes in the confederation were the Miami who built their own fort on Buffalo Rock.

Through the many years that followed, Buffalo Rock was used by a religious sect as a place for holding camp meetings, and still later was used as a site for a tuberculosis sanatorium. The Crane Company of Chicago purchased Buffalo Rock in 1912 and for a period of about 16 years maintained a sanatorium for sick employees and a summer vacation ground for thousands of employees and their families. In 1927 the Crane Company moved their recreation park to a larger area and donated the land to the state to become a park. The deed to the property was turned over to the State of Illinois on November 15, 1928, with the provision that it would become a permanent state park and that the caretaker, Robert Barnett, who was then 72 years of age, be retained in that capacity during the remainder of his lifetime as a reward for his loyal services.
There are three primitive camping areas along the trail between Buffalo Rock and Utica. The campsites have fire rings but no water or restroom facilities are available. Sites are accessible by walk or bike in only, no vehicular access is allowed. One of the camping areas designed for youth camping has a shelter with a fireplace. Permits must be obtained from Buffalo Rock State Park prior to camping.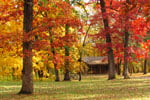 Cottages and Cabins
Within a 10 minute drive from Starved Rock and even closer to Matthiessen State Parks you will find a gorgeous, tranquil property with spacious cabins on 50 wooded acres. All with full kitchens and outdoor fire pits. 3 dog friendly.
10.9 miles from park*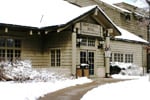 Hotels/Motels
Relax in the rustic beauty and comfort of Starved Rock Lodge, Cabins and Starved Rock Inn. The historic Lodge has 69 guest rooms, which include three bay-window rooms, plus cabins nestled in the woods. Fireplaces can be found in four of the eight sunset cabins near the pool area...
4.3 miles from park*