STARVED ROCK STATE PARK
STARVED ROCK STATE PARK
P.O. Box 509
Utica, Illinois   61373
Phone:
815-667-4726
Reservations:
815-667-4726
Email:

Starved Rock State Park is best known for its fascinating rock formations, primarily St. Peter sandstone, laid down in a huge shallow inland sea more than 425 million years ago and later brought to the surface.

While the areas along the river and its tributaries still are predominantly forested, much of the area is a flat, gently rolling plain. The upland prairies were created during an intensive warming period several thousand years after the melting of the glaciers. The Illinois River Valley in the Starved Rock area is a major contrast to the flatland. The valley was formed by a series of floods as glacial meltwater broke through moraines, sending torrents of water surging across the land and deeply eroding the sandstone and other sedimentary rocks.

During early spring, when the end of winter thaw is occurring and rains are frequent, sparkling waterfalls are found at the heads of all 18 canyons, and vertical walls of moss-covered stone create a setting of natural geologic beauty uncommon in Illinois. Some of the longer-lasting waterfalls are found in French, LaSalle and St. Louis canyons.

Waterfalls, rivers and streams can undercut a cliff, creating overhangs in the sandstone, like Council Overhang at the east end of the park. Other sights can be seen from the bluffs themselves, which provide vantage points for enjoying spectacular vistas. The porous sandstone bluffs allow water to soak quickly through, only to collect in greater quantities on the slopes below. The resulting lush vegetation supports an abundant wildlife and bird population, including woodchucks, moles, vireos and catbirds. Wood ducks that nest in hollow trees occasionally can be seen paddling along the river?s edge. Evidence of beavers and muskrats can be seen as you walk along the River Trail.

Black oak, red cedar and white oak, as well as white pine and white cedar, grow on the drier, sandy bluff tops. Yellowbellied sapsuckers drill parallel rows of small holes on cedar trees and return to feed on sap and small insects. Serviceberry and northern honeysuckle--shrubs that prefer a well-drained area--attract scarlet tangers and cedar waxwings.

Farther away from the bluffs, red oaks and hickories predominate in deeper soils. Typical plants characteristic of the forest floor include the American witch hazel, black huckleberry and bracken fern. Nuthatches and chickadees feed on nuts, seeds and insects found in the bark of trees. Raccoons and flying squirrels spend many hours searching for and gathering berries and nuts.

At the forest edge, bright blue indigo buntings flit through the wild crab apple and plum trees that skirt the former glacial till prairie, while cottontail rabbits scamper through the bluestem and Indian grasses. In the sandy prairie soil, prickly pear cactus grows alongside lead plant, compass plant and rattlesnake master. White-tailed deer come to munch on the sumac, and red-tailed hawks soar overhead in search of voles and field mice.

Throughout spring and summer, wildflowers are as plentiful and varied as they are beautiful. Included in the floral array are colorful lichens and mosses, marsh marigolds, wild iris, trillium and Dutchman?s breeches, plus purple-flowered spiderworts, nodding or orange columbine and the magenta blooms of shooting star.

The poison ivy plant is found in all areas of the park. Its greenish-white berries provide an important food source for birds.
Situated on a high bluff just southwest of the rock itself is the stone and log lodge built in part by the Civilian Conservation Corps in the 1930s. The lodge has been refurbished, but still reflects the peaceful atmosphere of yesteryear. A new hotel wing has been added and features a registration lobby, an indoor swimming pool, children?s pool, whirlpool, saunas and an outdoor sunning patio.

The lodge offers 72 luxury hotel rooms and 22 comfortable cabin rooms. The original Great Room is furnished with decorative rugs and art and is centered around a massive stone fireplace.

The restaurant is open seven days a week and offers many house specialties. It can accommodate up to 250 people for banquets. The lodge?s conference area can accommodate up to 200 with four smaller meeting rooms also available.

For lodge reservations, call 1-800-868-ROCK (7625) or (815) 667-4211.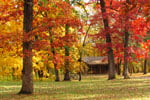 Cottages and Cabins
Within a 10 minute drive from Starved Rock and even closer to Matthiessen State Parks you will find a gorgeous, tranquil property with spacious cabins on 50 wooded acres. All with full kitchens and outdoor fire pits. 3 dog friendly.
8.4 miles from park*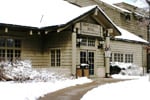 Hotels/Motels
Relax in the rustic beauty and comfort of Starved Rock Lodge, Cabins and Starved Rock Inn. The historic Lodge has 69 guest rooms, which include three bay-window rooms, plus cabins nestled in the woods. Fireplaces can be found in four of the eight sunset cabins near the pool area...
1.3 miles from park*
Boats may be launched from the west end of the park. Also, paddlewheel boat rides are available.

Boats are not allowed within 600 feet of the dam, as strong currents and powerful undertows can be dangerous. Boats may be launched from the west end of the park. Also, paddlewheel boat rides are available.

Boats are not allowed within 600 feet of the dam, as strong currents and powerful undertows can be dangerous.
Fishing:

Catfish, bullhead, white bass, sauger, walleye, carp and crappie may be caught in the Illinois River.