DIXON SPRINGS STATE PARK
DIXON SPRINGS STATE PARK
R.R. #2, Box 178
Golconda, Illinois   62938
Phone:
618-949-3304
Reservations:
618-949-3394
Email:

Dixon Springs State Park is one of several state parks in the Illinois Shawnee Hills. The park is on a giant block of rock which was dropped 200 feet along a fault line that extends northwesterly across Pope County.

The 801 acre park is about 10 miles west of Golconda on Illinois Route 146 near its junction with Illinois Route 145. The first land acquisition was in 1946.

Facilities at the park include a modern swimming pool, bathhouse, and 45-foot water slide provided for swimmers' enjoyment. Lifeguard is on duty at all times. Towering oaks, elms, and birch trees shade the pool. A concession stand near the pool provides a variety of refreshments.

Picnic tables and outdoor stoves are available at three shaded picnic areas. Two picnic shelters, playgrounds, parking areas, and drinking water are also available. There is a Class B trailer camping area with a sanitary dumping station and electricity available. Also available are ten sites for primitive camping, two hiking trails, two basketball courts, three horseshoe pits, two volleyball courts and an archery range.
The area around the park was occupied by various tribes of Algonquins who, after the Shawnee had been driven from Tennessee, had settled near the mouth of the Wabash River. Dixon Springs was one of their favorite camping grounds and was called "Kitchemuske-nee-be" for the Great Medicine Waters.

One of the better known Indian Trails, which the early French called the "Grand Trace," passed to the west of the park and south to Fort Massac, then branched out into lesser trails. Much of the "Grand Trace" is Illinois Route 145, one of the most scenic highways in the state, running nearly all of its length south from Harrisburg through the Shawnee National Forest.

This section of the state was part of an Indian Reservation occupied for a time by about 6,000 Native Americans. Like the buffalo, most of the Indians were gone by the early 1830's.

Dixon Springs takes its name from William Dixon, one of the first white settlers to build a home in this section, who obtained a school land warrant in 1848 from Governor Augustus C. French. His cabin was a landmark for many years as was an old log church on the adjoining knoll.

A small community grew up at Dixon Springs with a general store, post office, blacksmith shop, grist mill, and several churches.Dixon Springs

Dixon Springs became a 19th century health spa which attracted hundreds to the seven springs of mineral-enriched water. A bathhouse provided mineral or soft water baths, hot or cold, available at any time. The natural beauty of the area and its interesting stone formations helped to give the park valley a more equable temperature in the summer than most of southern Illinois. This made the resort so popular that people came by steamboat excursions from as far away as Paducah, KY, Evansville, IN, and Cairo to Golconda. They then traveled by train to within a couple miles of the park.

The entire county is hilly and during rainy weather rivulets cascade down the hills in the park forming waterfalls of varying sizes and heights.

Bold cliffs and crags overhang a bubbling brook while large boulders, overgrown with ferns, ivy, lichens, and moss, fringe the hillside. Giant century-old trees interlock above the small creek as cliffs rise on either side and huge boulders are scattered through the valley.

Equally intriguing are the names given numerous points of interest, including Album Rock, Red Man's Retreat, Wolf Pen, Lover's Leap, Ghost Dance, Pluto's Cave. Alligator Rock, the Chain of Rocks, Devil's Workshop, and Honeycomb Rock. The principle canyon has walls nearly 60 feet high with a long, narrow passageway.

Deer, squirrels, rabbits, groundhogs, and foxes scamper around the oak, cypress, gum, pine, sycamore, walnut, persimmon, hickory, birch, and maple trees. Dogwood and catalpa trees blossom profusely in season. In the spring the Jack-in-the-pulpit, violet, lady's slipper, May apple, and sweet William brighten the natural beauty of the park.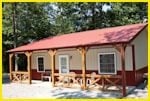 Cottages and Cabins
LARGE 2 and 3 bedroom private CABINS located near many of the major ATTRACTIONS of the Shawnee National FOREST and the surrounding Southern ILLINOIS area. All cabins offer incredible VALUE as they are fully furnished with everything needed including full kitchens with cookware, microwave, liens, fire pits and wood, outdoor grill, satellite TV and even FREE internet. Open all seasons
9.9 miles from park*