FERNE CLYFFE STATE PARK
FERNE CLYFFE STATE PARK
Rt.37, P.O. Box 10
Goreville, Illinois   62939
Phone:
618-995-2411
Reservations:
618-995-2411
Email:

Ferne Clyffe has been known as an outstanding natural scenic spot for nearly 100 years. An abundance of ferns, unique geological features and unusual plant communities create an atmosphere that enhances the many recreational facilities offered at the park. Trails wind through picturesque woods, allowing visitors to view fascinating rock formations and inspiring vistas.

Located on Illinois Route 37, just one mile south of Goreville and 12 miles south of Marion, the 2,430-acre park is easily accessible from both I-57 and I-24. With camping, picnicking, hiking, hunting, fishing and sightseeing to choose from, you can't help but enjoy a visit to Ferne Clyffe.
Natural Features:

Impressive rock formations can be seen from almost all of the park trails, but two of the best-known sights are Hawks' Cave, a 150-foot-long shelter bluff, and a 100-foot-tall intermittent waterfall on the Big Rocky Hollow trail.

Flora and Fauna:

It would be nearly impossible to list all of the plant life that thrives in the park--there are more than 700 species! Flowering dogwood, redbud, serviceberry, spicebush, sumac, sweetgum, maple, oak, hickory and some of the woodland wildflowers create an extraordinary color backdrop for recreational activities in the spring and fall. Late April and early May are particularly good times for viewing the springtime color show. Fall foliage is at its best in October.

As you walk the trails, you can expect to see squirrels, rabbits, doves, quail, and bluebirds and other songbirds and an occasional wild turkey.

Ferne Clyffe Lake

Since 1960, the 16-acre Ferne Clyffe Lake has offered visitors additional recreational and scenic opportunities. The lake has a maximum depth of 22 feet, and a hiking trail encompasses the 1-mile shoreline. It is open to bank fishing, but boating and swimming are prohibited. Spectacular views of the lake can be seen from Lakeview Picnic Shelter and Blackjack Oak Trail.

Round Bluff Nature Preserve

Just south of the Lakeview Picnic Shelter is the 53-acre Round Bluff Nature Preserve. This area is a marvelous mix of unique geological features and unusual plant communities. Each season brings its own beauty to the area, but spring and fall are the most colorful seasons. Dutchman's breeches, trillum, spring beauty, trout lily and other woodland wildflowers add vibrant color to the ground cover in the spring. Fall's colder temperatures change the deep greens of the summer tree foliage to a spectacular mix of reds, purples, golds and browns that cover every hillside.

Within the preserve, hiking is restricted to marked trails only. All plants and animals within the preserve are protected by law.
George Rogers Clark and his contingent purportedly passed through or near Ferne Clyffe on their trip to Fort Kaskaskia in 1778. One hundred years later, the Cherokee are reported to have used the area as their hunting range while on their Trail of Tears march.

Two Cairo brothers purchased a part of the park known today as Hawks' Cave/Big Rocky Hollow in 1899 and called it Ferne Clyffe because of the ferns that grew in such abundance. The area soon became known for its beauty and was eventually sold to Miss Emma Rebman, a local school teacher and Johnson County school superintendent. Miss Rebman opened the park to the public on Sundays for a 10-cent admission. Ferne Clyffe soon became a popular attraction, and local entrepreneurs began to provide transportation from the Goreville train depot for an additional 10 cents.

In 1929, Miss Rebman offered to sell the park to the state of Illinois. Additional efforts by conservation and political groups such as the Greater Egypt Association and the Illinois Redevelopment Board resulted in the state's purchase of Miss Rebman's 140 acres in 1949.

Today, Ferne Clyffe State Park covers 2,430 acres of the majestic Shawnee Hills and is visited by more than 200,000 nature lovers each year.
Ferne Clyffe has a campground for every type of camper: modern, primitive, youth groups, backpack or equestrian. The shower facilities that are offered at some campgrounds are available seasonally.

Deer Ridge campground is a well-shaded Class A facility offering gravel pads with electricity, picnic tables and cooking grills. Drinking water, showers, flush toilets and a sanitary dump station complete the setting for campers who prefer to include a few comforts of home with their outdoor adventure.

Turkey Ridge is for campers who want a serene outdoor experience. It is a Class C walk-in campground that includes camp pads, picnic tables, cooking grills and showers. Drinking water and toilets are located near the parking lots.

Scouts, church groups and other youth groups will enjoy the Youth Group campground. This Class D facility is equipped with drinking water, picnic tables, cooking grills, toilets and parking. Groups of minors must have adequate supervision, and at least one adult must accompany a group of 15 minors.

Backpackers enjoying their commune with nature will appreciate the solitude of the individual campsites in the Class C Backpack campground. Located a half-mile from the Turkey Ridge primitive campground parking lot, these woodland sites have cooking grills, toilets and showers. Water and trash receptacles are available at the Turkey Ridge parking lot. You're reminded to be careful with your fires and to pack out what you pack in.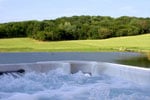 Cottages and Cabins
Tucked away in the picturesque rolling hills of Southern Illinois, our location rests on the highly acclaimed Southern Illinois Wine Trail. Pinnon Lake cabins are ten tranquil minutes from the edge of Shawnee National Forest. Moments from anywhere yet feels like miles from it all.
6.9 miles from park*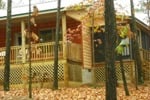 Cottages and Cabins
Located in beautiful Johnson County, Illinois, and nestled within the Shawnee National Forest. Enjoy the screened in porch at dusk and view the wildlife that wanders freely through the woods. The hot tub is located out of doors so you can relax in luxury beneath the stars....
1.5 miles from park*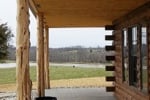 Cottages and Cabins
Top notch accommodations on the Shawnee Hills Wine Trail and on the edge of the Shawnee National Forest.
7.1 miles from park*