CACHE RIVER STATE NATURAL AREA
CACHE RIVER STATE NATURAL AREA
930 Sunflower Lane
Belknap, Illinois   62908
Phone:
618-634-9678
Email:

When storms pushed Norseman Lief Ericsson westward to the North American continent 1,000 years ago, many of the cypress trees of today's Cache River State Natural Area were just saplings. By the time Christopher Columbus landed in the Western Hemisphere 500 years later, they had grown into ancient trees that towered above even more ancient blackwater swamps.

Cache River State Natural Area is situated in southernmost Illinois within a floodplain carved long ago by glacial floodwater of the Ohio River. When the Ohio River adopted its present course, it left the Cache River to meander across rich and vast wetlands. Among the outstanding natural features found within the area today are massive cypress trees whose flared bases, called buttresses, exceed 40 feet circumference. Many are more than 1,000 years old, including one that has earned the title of state champion bald cypress because of its huge trunk girth, towering height, and heavily branched canopy.

Despite intensive efforts to convert land along the Cache River to cropland, the land that today makes up the Cache River State Natural Area has managed to hold onto some of the highest quality aquatic and terrestrial "natural communities" remaining in Illinois. Wetlands within this area are so important to migratory waterfowl and shorebirds that in 1996 the RAMSAR Convention collectively designated them a Wetland of International Importance, only the 19th wetland in the United States to receive the distinction.

It is within southern Illinois that north meets south and east meets west. With its diversity of soils, bedrock and landforms, the Cache River Valley contains four distinct ecological regions. Its hodgepodge of ecological factors has resulted in a collage of natural communities, each with its own unique assemblage of physical attributes, plants and animals.

Not surprisingly, people have rallied to protect the Cache River watershed. The National Park Service has designated two National Natural Landmarks within its borders - Buttonland Swamp and Heron Pond. The Illinois Department of Natural Resources has identified three Nature Preserves here - Section 8 Woods, Heron Pond-Wildcat Bluff and Little Black Slough - and registered 10,367 acres of the area's 14,314 acres in the Land and Water Reserve Program. These designations assure that the site management will emphasize restoration and preservation of the area's natural characteristics.
Totaling 14,314 acres in Johnson and Pulaski counties, Cache River State Natural Area is composed of three distinct management units - Little Black Slough, Lower Cache River Swamps and Glass Hill.

The Little Black Slough Unit surrounds the Upper Cache River north of the Cypress-Dongola blacktop. Nestled deep within the shadowy bottomland forests of this unit lies Heron Pond, a shallow wetland dominated by cypress and tupelo trees. A boardwalk winds its way into the secluded depths of this forested swamp, providing visitors a chance to step back in time and observe wetland and aquatic ecosystems that have remained relatively undisturbed for thousands of years. During the growing season, massive gray-brown cypress trunks arise from a floating carpet of brilliant emerald duckweed. These living pillars of wood extend high over the swamp before disappearing into a shadow-filled canopy. Here, seldom-seen but often-heard bird-voiced tree frogs haunt the leafy branches of tall cypress trees, their melodious calls considered by many to be the most beautiful of all the frog voices. Above and below the water?s surface, birds, mammals, reptiles, amphibians and insects interact in a symphony of survival.

Overlooking the swamps are the low ridges of the Lesser Shawnee Hills. At the base of these hills, bottomland hardwood forests dominated by overcup oak, pin oak, cherrybark oak and sweetgum give way to red oak, white oak and shagbark hickory. Barrens occur on the highest ridge tops where soils are thin and bedrock is exposed. These sites are dominated by small post oak and blackjack oak trees scattered about open expanses of land dominated by grasses and forbs more commonly encountered on dry prairies.

South of the Cypress-Dongola blacktop, the Lower Cache River Swamps spread across a broad, flat floodplain between the towns of Karnak and Ullin. The swamps are a mosaic of permanent, deep, open water interrupted here and there by thick-buttressed cypress trees that were old hundreds of years ago. Younger, even-aged stands of cypress and tupelo trees and thickets of buttonbush occur in areas of shallow water. Visitors can experience this lost world while paddling a canoe through 6 miles of trails that meander through rivers, swamps and ponds in a portion of the Lower Cache River known as Buttonland Swamp.
The Wetlands Center was completed in November 2004. The center will be a high-quality destination point that fosters natural resources appreciation and education, while interprting the unique natural and cultural history of the Cache River Wetlands. Located south of Whitehill on Illinois Route 37, the center is named for Henry N. Barkhausen, who served as Director for the Illinois Department of Conservation form 1970-73 and for 18 years, served as Secretary of the Citizens Committee to Save the Cache River. He worked to encourage government agencies, organizations and residents to protect and restore the natural character of the Cache Wetlands. Please call for information on the Wetlands Center hours and days of operation.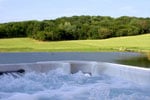 Cottages and Cabins
Tucked away in the picturesque rolling hills of Southern Illinois, our location rests on the highly acclaimed Southern Illinois Wine Trail. Pinnon Lake cabins are ten tranquil minutes from the edge of Shawnee National Forest. Moments from anywhere yet feels like miles from it all.
13.4 miles from park*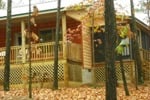 Cottages and Cabins
Located in beautiful Johnson County, Illinois, and nestled within the Shawnee National Forest. Enjoy the screened in porch at dusk and view the wildlife that wanders freely through the woods. The hot tub is located out of doors so you can relax in luxury beneath the stars....
13.2 miles from park*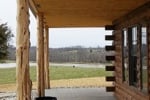 Cottages and Cabins
Top notch accommodations on the Shawnee Hills Wine Trail and on the edge of the Shawnee National Forest.
13.8 miles from park*