GIANT CITY STATE PARK
GIANT CITY STATE PARK
235 Giant City Road
Makanda, Illinois   62958
Phone:
618-457-4836
Reservations:
618-457-4836
Email:

With its breathtaking natural beauty and unlimited opportunities for outdoor recreation, a trip to Giant City State Park near Carbondale is sure to delight visitors of all ages. From camping and horseback riding to fishing and rappelling, it?s an outdoor lover?s paradise. Visitors will marvel at the many wilderness trails, and a sure treat awaits anyone hiking the Giant City Nature Trail, home of the ?Giant City Streets? formed 12,000 years ago by huge bluffs of sandstone.

Nestled in the Shawnee National Forest, just minutes south of Carbondale, the area was named for the unique impressions made by its massive sandstone structures. Eons of geological faulting and folding have molded a landscape like none other, which is now clothed in lush garments of fern, moss, large flowering mints, hundreds of species of wild flowers and 75-plus varieties of towering trees. The natural splendor of Giant City has made it a renowned retreat that attracts more than 1.2 million visitors annually.
Shelter bluffs, or rock shelters, worn into the sides of the cliffs have revealed evidence of human habitation in this region from as early as 10,000 years ago, and the blackened ceilings caused by their fires are still visible today. On an 80-foot sandstone cliff near the main entrance, one can see the remains of a Native American stone wall that was erected between A.D. 600-800.

The first European settlers moved into the area from Kentucky and Tennessee in the early 1800s, and by 1850, settlers were using the land to cultivate fruit trees. During the Civil War, many of the cliffs and canyons were used as havens by soldiers of both the Union and Confederate armies.By the early 1900s, many biologists, geologists and visitors had become intrigued with the region for study and relaxation. It provided ample opportunity for both.

In 1927, the State of Illinois acquired more than 1,100 acres of land in Union and Jackson counties and dedicated the area as Giant City State Park. In 1936, the Civilian Conservation Corps completed construction of a lodge and 12 overnight cabins on the highest point in the park. Today, the park has grown to encompass 4,000 acres of spectacular countryside and the 110-acre Fern Rocks Nature Preserve.

An 82-foot, 100,000 gallon water tower was constructed in 1970 to feature a 50-foot observation deck that provides panoramic views of large expanses of the area.In 1999, a 4,725-square-foot Visitor Center was completed. The new facility houses exhibits on the natural and cultural history of the park, as well as a gift shop, audio-visual room, and a discovery corner for children.
Giant City is a popular weekend retreat because of its varied and well-kept campground facilities. Its Class A campgrounds provide water, electricity, showers and sanitary facilities for tent and trailer camping. There is a separate Class A equestrian campground located off the horse trail in the southwest corner of the park.

A Class C camping area with 14 walk-in sites at the south end of the family campground is available for those who prefer a more primitive setting. Water, outdoor privies, and access to showers are provided. A Youth Group camping area is available on a first come, first served basis for organized groups with adult supervision.
The rustic beauty of the Giant City Lodge creates an atmosphere that is unparalleled in southern Illinois. Although the lodge has been expanded and remodeled, great care has been taken to preserve the multi-hued sandstone and the white oak timber used in the initial construction in the 1930s. Many original furnishings and decorations have been restored and are still in use throughout the lodge.

Three types of cabins offering forest views are available to accommodate overnight guests. All have unique features and have been restored. Twelve historic cabins are one-room units; 18 prairie cabins are two-room units; and four bluff cabins, the largest and most scenic, can conveniently house a family of six.

The Bald Knob dining room, with seating for 170, serves breakfast, lunch and dinner daily and has a reputation for excellent food at a reasonable price. It is especially well known for its family-style, home-fried chicken.

The lodge also features a gift shop, cocktail lounge and bar, an outdoor swimming pool and a children?s pool.

For lodge reservations, call (618) 457-4921, or write Giant City Lodge, 460 Giant City Lodge Road, Makanda, IL 62958. The Giant City Lodge is closed each year from early December to mid-February.
A highlight of Giant City State Park is the new visitor center. The Center provides interpretive displays on the geology, plants, animals, and history of the park. An audio-visual room with a running 10 minute film about the park guides visitors through the interesting features. Visitors can pick up information about other tourist destinations in southern Illinois at the Center also.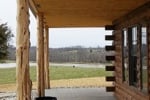 Cottages and Cabins
Top notch accommodations on the Shawnee Hills Wine Trail and on the edge of the Shawnee National Forest.
7.3 miles from park*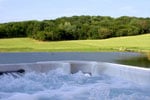 Cottages and Cabins
Tucked away in the picturesque rolling hills of Southern Illinois, our location rests on the highly acclaimed Southern Illinois Wine Trail. Pinnon Lake cabins are ten tranquil minutes from the edge of Shawnee National Forest. Moments from anywhere yet feels like miles from it all.
7.6 miles from park*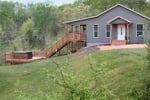 Cottages and Cabins
Doc's Lakeside Cabin was built in 2012 and is located in beautiful Southern Illinois. Let us welcome you to setting where you can rejuvenate your mind, body and soul.
13.4 miles from park*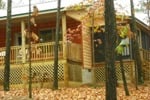 Cottages and Cabins
Located in beautiful Johnson County, Illinois, and nestled within the Shawnee National Forest. Enjoy the screened in porch at dusk and view the wildlife that wanders freely through the woods. The hot tub is located out of doors so you can relax in luxury beneath the stars....
11.7 miles from park*