MORRISON-ROCKWOOD STATE PARK
MORRISON-ROCKWOOD STATE PARK
18750 Lake Road
Morrison, Illinois   61270
Phone:
815-772-4708
Reservations:
815-772-4708
Email:

A trip to picturesque Morrison-Rockwood State Park offers many memorable experiences. A large sign in the shape of Illinois, fashioned from angle iron by a blacksmith, greets visitors at the entrance. Once inside, choose from a variety of recreational opportunities. Beautiful Lake Carlton, a stream-fed reservoir, features an abundance of ducks and geese, and is considered a prime location for fishing. Or, plan a family outing at the Lakeview picnic area, or just do some bird watching among the hickory, ash, oak and walnut trees.
The Morrison-Rockwood State Park is comprised of 1,164 acres, located north of Morrison in Whiteside County. It was established in 1971 and officially opened for "day use only" that same year. The park is named for the city of Morrison and a combination of nearby Rock Creek and the heavily wooded park area -- Rockwood. Lake Carlton, a focal point of the park, is a watershed impoundment which was constructed in 1969 by building a 38-foot high, 1,800-foot long earthen dam across a stream. The lake was named in memory of L. Carlton Anderson, a local citizen who actively promoted the park and was an important civic and conservation leader. Improvements have continued to be made in the conservation area, making it one of the most popular recreation spots in northern Illinois.
Camping at Morrison-Rockwood State Park is sure to delight all who love the out-of-doors. Ninety-two camping sites are available in heavily wooded areas of the park. Each site has electricity, grill and a table. A shower building with flush toilets is available from May 1st through October 31. A trailer dump station is conveniently located near the campground.
Another amenity you will find at the park is a concession facility that offers a vast array of fishing tackle, boat rentals, bait sales, and a dining area that offers breakfast, lunch and dinner or just an ice cream cone. The bait/boat rental part of the business will open April 1st and the hours will be 7:00 AM to Sunset through October 31st. The restaurant part of the business will open April 1st and the hours will be 7:00 AM to 7:00 PM through October 31st. Marina and Restaurant Phone Number 815/772-3613.

The park has an abundance of wildlife. Lucky visitors may see rabbits, squirrels, quail, pheasants, foxes, coyotes, muskrats, groundhog or deer. Ducks and geese are often swimming on the lake to the delight of visitors. Bird watchers will not be disappointed at Morrison-Rockwood State Park. There are over 150 species of birds among the plentiful stands of hardwoods. Winter sports are also popular at the park. Ice fishing and ice skating are permitted on Lake Carlton. Fourteen miles of cross country ski trails will thrill skiing enthusiasts. The rolling hills of the park make great sledding paths if snow cooperates. For more information contact the Site Superintendent, Morrison-Rockwood State Park, 18750 Lake Road, Morrison, Illinois 61270, phone (815) 772-4708.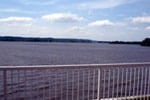 BBs / Inns
Our Vacation Rental Home is located right on the banks of the Mighty Mississippi River between Savanna and Thomson Illinois. Our location has one of the most awe-inspiring views of the Mississippi River around. We are only a few miles south of the Mississippi Palisades State Park and just one block away from the Great River Bike path that runs from Savanna to East Moline. Spend your next vacation or leisure weekend on the Mighty Mississippi.
13.9 miles from park*