WAWAYANDA STATE PARK
WAWAYANDA STATE PARK
885 Warwick Turnpike
Hewitt, New Jersey   07421
(lat:41.1976 lon:-74.3968)

Phone:
973-853-4462
Reservations:
973-853-4462
The quiet charm of Wawayanda appeals to hikers, campers, swimmers and boaters. Forested hills surround Lake Wawayanda creating a restful backdrop for canoeists, boaters and fisherman, while steep mountains challenge casual as well as serious hikers. A twenty-mile stretch of the Appalachian Trail runs through the park, while the top of Wawayanda Mountain offers sensational views. More than forty miles of trails are marked in the park.
Group Campsites: Three group sites with a clivus restroom; Seven person minimum. Water is not available at campsites; it must be carried from the main office building. Open April 1 through October 31. Firewood available for purchase at park office.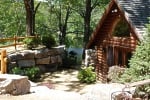 Cottages and Cabins
Cedar Lakes is a gorgeous 500-acre estate surrounding twin cedar lakes. We have a selection of deluxe cottages for nightly or weekly rentals. Enjoy hiking, boating, fishing, tennis, and swimming on the property. Cottages have full kitchens, fireplaces, WIFI, and great amenities--all for the price of a hotel.
16.2 miles from park*
From Memorial Weekend to Labor Day, while lifeguards are on duty, visitors can swim in Lake Wawayanda. Swimming hours are 10 am to 6 pm. Adjacent to the beach visitors can access facilities with changing areas, restrooms, a first-aid station, and a food concession where food and beach supplies may be purchased.

Inner tubes, rafts and other flotation devices are not permitted in the swimming area. Only Coast Guard approved life jackets are permitted. Pets are prohibited on the beach.
A boat rental facility and launching ramp are located near the beach and picnic areas. Canoes, rowboats (with or without electric motors) and paddleboats may be rented at Wawayanda Lake. Privately owned water craft may be launched. Although sailboats and sailboards are permitted on the lake, there are no rentals available in the park. Gasoline motors are not permitted.

NJ Boating Rules & Regulations pertain Wawayanda Lake at all times. Each person must have on a wearable Coast Guard approved Personal Flotation Device. Alcoholic beverages are prohibited.
---
Wawayanda State Park is located near Butler, Chester and Franklin Lakes
---
Picnic areas are located along the north shore of Wawayanda Lake surrounding the lake-oriented activities and are adjacent to the boat house and boat launch facility. Charcoal fires must be confined to the metal grills that are provided at the sites. Visitors may also bring their own grills, which are subject to the approval of a park official. Wood fires are not permitted.
Wawayanda State Park consists of over 60 miles of well marked trails. The trails are not ADA accessible.

A 19.6-mile section of the Appalchian Trail follows the varied terrain of the park. This trail's designated use is restricted to hiking only for its entire length from Maine to Georgia. White blazes mark this narrow and sometimes very rocky trail.

Along Wawayanda Mountain are outstanding views of the surrounding landscape. The 70-mile segment of the Appalachian Trail within New Jersey is maintained by the New York-New Jersey Trail Conference. A brochure regarding New Jersey's portion of the trail is available at the park office.

In addition to the Applachian Trail, there are more than 40 miles of marked trails within Wawayanda State Park. The varied terrain and natural features offer equal opportunities for both the casual and experienced hikers.
Bearfort Mountain Natural Area (1,325 acres):This area encompasses several forest communities including swamp hardwood, hemlock-mixed hardwood and chestnut oak forest communities. This is a key location for observing the state endangered red-shouldered hawk, with a 360-degree view of the surrounding northern highlands.

Wawayanda Hemlock Ravine Natural Area (399 acres):The topography of this ravine is one of high relief with 300-foot increases in elevation from Doublekill Creek to surrounding hills. The hemlock-mixed hardwood forest provides a cool shady break for hikers on the Appalachian Trail, which is located along the western boundary of the natural area.

Wawayanda Swamp Natural Area (2167 acres):This natural area features an Atlantic white cedar swamp, mixed oak-hardwood forest and a glacially formed spring-fed lake and is habitat for the red-shouldered hawk, barred owl and great blue heron. Visitors may choose from several trails, including a scenic walk around Laurel Pond.

Winter Sports

At an elevation of 1,140 feet above sea level, Wawayanda State Park receives great accumlations of snow in the winter months. A number of winter activities are permitted on designated trails and various areas within the park, including cross-country skiing, ice skating, ice fishing snowshoeing and snowmobiling. For more information, contact the park office.
---
---
Mastodon Sporting Goods
195 Highland Lakes Rd
Highland Lakes, NJ
(973) 764-0200
Hidden Valley Resort
44 Breakneck Rd
Vernon, NJ
(973) 764-4200
Resort Club Inc
3 Telemark Dr
Vernon, NJ
(973) 209-4362
Minerals Resort & Spa
2 Chamonix Dr
Vernon, NJ
(973) 827-2222
Resort Club at the Great Gorge
State Rt 94
Vernon, NJ
(973) 827-8000
Take Route 23 north to Union Valley Road. Follow Union Valley Road about 6 miles to stop sign. From Stop sign, go to second traffic light. Turn left, travel to fork in road (about 2 miles) go left about 1/2 mile to Warwick Turnpike. Turn left. The park entrance is four miles on the left.