CRAB ORCHARD NATIONAL WILDLIFE REFUGE
Crab Orchard National Wildlife Refuge's 44,000 acres of land and water contain a wide diversity of flora and fauna. Major habitat types on the refuge include hardwood forest, agricultural land, grazing units, brushland, wetlands, and lakes. The refuge provides significant resting areas for migratory birds utilizing the Mississippi Flyway. Wintering numbers of Canada Geese can peak at 200,000. A total of 700 plant species, 245 bird species, 33 mammal species, 63 fish species, and 44 reptile and amphibian species have been documented on the refuge.

The western 24,000 acres of the refuge provide a wide range of recreational opportunities and also includea 4,050-acre wilderness area. The eastern portion, 20,000 acres, is a wildlife sanctuary, and public use is limited.

Cooperative farming, permittee grazing, and moist soil units are the primary management tools used to provide feeding and loafing areas for migrating and wintering waterfowl. The topography of the refuge varies from gentle rolling slopes through most of the refuge to slopes exceeding 24% in the southern portion. There is a wide spectrum of recreational opportunities on and around three man-made lakes on the refuge.

Present annual visitation is approximately 1,000,000 visitors. Industrial activities on the refuge range from manufacturing and storage facilities to administrative offices. Many buildings now housing industries were used in the manufacturing of explosives during World War II, and they are still used for military ordnance production today. The concrete igloos built for munition storage are now leased to private industry for storage of many types of products.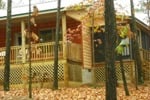 Cottages and Cabins
Located in beautiful Johnson County, Illinois, and nestled within the Shawnee National Forest. Enjoy the screened in porch at dusk and view the wildlife that wanders freely through the woods. The hot tub is located out of doors so you can relax in luxury beneath the stars....
11 miles from park*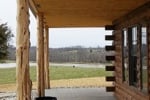 Cottages and Cabins
Top notch accommodations on the Shawnee Hills Wine Trail and on the edge of the Shawnee National Forest.
12.8 miles from park*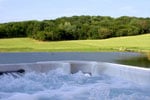 Cottages and Cabins
Tucked away in the picturesque rolling hills of Southern Illinois, our location rests on the highly acclaimed Southern Illinois Wine Trail. Pinnon Lake cabins are ten tranquil minutes from the edge of Shawnee National Forest. Moments from anywhere yet feels like miles from it all.
13 miles from park*