ROSS COUNTY LAKE STATE WILDLIFE AREA
ROSS COUNTY LAKE STATE WILDLIFE AREA
The Ross County Lake State Wildlife Area, located in Ohio, is a picturesque outdoor sanctuary that spans over 1,082 acres. This magnificent wildlife area features a stunning 40-acre lake, surrounded by lush forests and vibrant meadows. It offers an abundance of recreational activities, including fishing, boating, and hiking, allowing visitors to immerse themselves in the beauty of nature. The lake is well-stocked with a variety of fish species, making it a prime destination for anglers seeking a rewarding fishing experience. With its diverse wildlife habitats and scenic landscapes, the Ross County Lake State Wildlife Area provides a perfect retreat for nature enthusiasts and a peaceful oasis for those looking to escape the hustle and bustle of everyday life.
Ross County Lake State Wildlife Area, also known as Ross Lake, is a 26-acre man-made lake located in Ross County, Ohio. The lake was created in the 1950s as part of a Cooperative Wildlife Management Agreement between the Ohio Department of Natural Resources (ODNR) and the U.S. Department of Agriculture's Soil Conservation Service (now known as the Natural Resources Conservation Service).

The purpose of creating Ross Lake was to provide recreational opportunities for anglers and wildlife enthusiasts, as well as to manage and conserve wildlife populations in the area. The lake was originally stocked with various fish species, including largemouth bass, bluegill, crappie, and channel catfish, to provide fishing opportunities for visitors.

Over the years, Ross Lake has become a popular destination for fishing, boating, and waterfowl hunting. The lake is managed by the ODNR Division of Wildlife, which oversees the wildlife area surrounding the lake, encompassing approximately 346 acres of wetlands, woodlands, and grasslands.

The wildlife area is home to a diverse range of plant and animal species, including waterfowl, shorebirds, songbirds, beavers, muskrats, and various reptiles and amphibians. It serves as an important stopover for migratory birds during their journeys, offering crucial habitat and food resources.

In addition to recreational activities, Ross Lake provides educational opportunities for visitors. The wildlife area has a small nature trail, picnic areas, and a fishing pier to facilitate public access and encourage environmental education. Throughout the year, various events and workshops are organized at Ross Lake to promote conservation and wildlife appreciation.

Overall, Ross Lake State Wildlife Area has played a significant role in preserving and enhancing the natural resources of Ross County, serving as a recreational hotspot and a sanctuary for wildlife.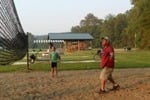 Cottages and Cabins
Rustic beauty in a peaceful, clean atmosphere is the secret to this Family Retreat. The serene splendor of Mother Nature is your reward for visiting Walnut Creek. We offer cabin rentals for those who want the convenience with less effort.
3.8 miles from park*