MERMET LAKE STATE FISH WILDLIFE AREA
MERMET LAKE STATE FISH WILDLIFE AREA
1812 Grinnell Road
Belknap, Illinois   62908
Phone:
618-524-5577
Email:

Mermet Lake State Fish and Wildlife Area is an old cypress swamp which has been made into a waterfowl hunting area. Primarily the area was developed for duck hunting but several thousand Canada, blue, and snow geese frequent the area each winter. The shallow lake also is very productive for largemouth bass, channel catfish, and most panfish. The lake is closed in October prior to waterfowl hunting season and is re-opened in December directly after waterfowl season. The original acreage acquired in 1949, in Massac County, one-half mile southwest of Mermet on U.S. 45, has been increased to 2,630 acres, of which 690 are permanent water.

reservoirOne of the first major developments at Mermet was the 1962 construction of a system of levees, which created a lake. The lake serves as a reservoir and a supply of water to temporarily flood two walk-in duck hunting areas and a duck hunting area of permanent blinds. These permanent blinds are allocated on a no-charge daily draw system. The water in the lake is dropped 2 feet each fall to accommodate the duck hunters. After waterfowl season, the water is returned to the lake and due to a normal lack of rainfall run-off, a system of wells and pumps is used to return the lake to pool stage.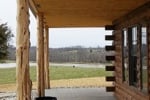 Cottages and Cabins
Top notch accommodations on the Shawnee Hills Wine Trail and on the edge of the Shawnee National Forest.
18.4 miles from park*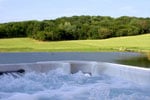 Cottages and Cabins
Tucked away in the picturesque rolling hills of Southern Illinois, our location rests on the highly acclaimed Southern Illinois Wine Trail. Pinnon Lake cabins are ten tranquil minutes from the edge of Shawnee National Forest. Moments from anywhere yet feels like miles from it all.
18 miles from park*